FREE Downloads:
Souvenir Booklet entitled "Our Heritage of Churches in Churches in Churchtown"
Our Heritage of Churches in Churchtown – Published 20170824
Souvenir Booklet to commemorate the Official Opening of Halla100
a-souvenir-booklet-halla100-as-published-v4-20161021
Bruhenny Obelisk and other Modern Monuments in Churchtown; a paper delivered by Noel Linehan, Churchtown Heritage Society on Sunday 25th September 2016.
bruhenny-obelisk-narrative-12pt-20160925

Souvenir Brochure from the William Murphy Commemoration. Click on the following link …
A – A – William Murphy Commemoration Event Pictures – Published 20160728
Programme for the William Murphy Commemoration on 25 June 2016 at Liscarroll. Click on the following link … click on the link below. 
A – A – William Murphy 1819 Booklet Published – LOW RES – 20160609
THE ANNALS OF CHURCHTOWN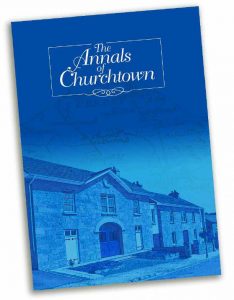 The Annals of Churchtown was produced by the Churchtown Village Renewal Trust as a not-for-profit service to the people of Churchtown. The book was compiled by Churchtown-reared Denis Hickey, supported by Gerry Murphy and Noel Linehan. Almost 60 local people contributed articles to the publication. The book also includes 12 historical essays, 300 pages of Churchtown-related dictionary entries, a large chronology of Churchtown, 80 pages of tables including various censuses, Griffith's Valuation and Tithe Applotment for Churchtown and a comprehensive glossary of Churchtown terms and expressions presented as Lingua Bruhenny.  Click here for a full INDEX of all references in The Annals.
If you wish to buy a DIGITAL copy for €20 please email  gmurphy@bruhenny.com
BOSS MURPHY MUSICAL LEGACY BOOK
Boss Murphy's son John (also called Boss Murphy) was an accomplished musician who could read and write music and various sheets of the music he 'recorded' are still in the possession of the Murphy family
First published in 2003 by the Churchtown Village Renewal Trust in association with Noah's Ark Press, Market House, Churchtown, Mallow, Co. Cork, Ireland.
If you wish to buy a DIGITAL copy for €10 please email  gmurphy@bruhenny.com
ISBN 0-952-4931-2-8
FREE Download: Programme for Opening of Halla100 on 24 April 2016 in Churchtown
A – A – GAA – Programme – Low Res – PRINT – 20160317
FREE Download: Programme for the William Murphy Commemoration on 25 June 2016 at Liscarroll
A – A – William Murphy 1819 Booklet Published – LOW RES – 20160609