Churchtown is a planned village and has a distinct "English" feel. Most Irish villages run along a main thoroughfare whereas Churchtown is built around a square or triangle. The village was rebuilt between 1822 and 1849 by Sir Edward Tierney who was agent for the Earl of Egmont. There are a lot of photographs here so downloading may take a little time but it will be worth it!
Welcome to Churchtown. We hope you enjoy this 'virtual tour' of our
village and are looking forward to seeing you soon for a
taste of the real thing. Scroll down to take the tour. We
will start at Boss Murphy's …
Boss Murphy House offers high quality
en-suite accommodation with warm and friendly service. Boss
Murphy House was originally build in the 1830s and was completely
refurbished for the enjoyment of guests in 1999.
Kerry Lane where the historic Market
House completed in 1845. The Market House was built by Sir Edward
Tierney (1780 – 1856) as Agent for the Earl of Egmont as a place
to collect rents. Edward Tierney, a solicitor born in Rathkeale,
Co Limerick inherited his title as Baronet of the United Kingdom
from his brother Mathew, a doctor, who received it for saving
the life of the Prince Regent – heir to the crown – who was
seriously ill on the death of his father George III on 20th
December 1820.
The multi-purpose community hall
(above) which was the original school in the village and opened
in 1846 was also completely refurbised by the Churchtown Development
Association in 1998 to 2000 when it was opened by President
Mary McAleese on 14th July 2000.
Pat O'Brien who carried on
the family business started by his grandfather Thomas O'Brien
at O'Brien's Bar retired in December 2004.
St Nicholas' Church – the spiritual
heart of the village – was built in the last century. Our
Parish priest is Father Robin Morrissey, based in Churchtown
Click here to download a book entitled Our Heritage of Churches in Churchtown published on Thursday 24th August 2017.
Our Heritage of Churches in Churchtown – Published 20170824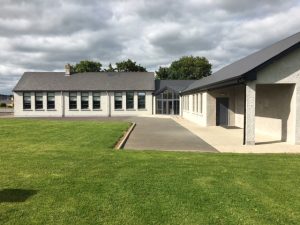 Education in Churchtown – Our Primary School was built in 1948 and the parish celebrated its 50th anniversary in 1998. What is now the community hall was the original school and the parish also celebrated 150 years of formal education in the parish in 1999 with the visit of Michael Martin TD, Minister for Education. The school principal is Donal O'Shea and he is supported by Angela O'Regan.
Bruhenny Church
and Graveyard – Records from 1291 relating to our ancient graveyard and ruined church were set out in the Pipe Roll of Cloyne. Bruhenny Church was approximately sixty feet long and thirty feet wide. The nave of the church was in repair and the chancel in ruins in 1615 and the site was recorded as abandoned by 1694. The Church was officially closed in 1710 by an Act of Parliament which sanctioned a change to a new site. The majority of the headstones in Bruhenny village graveyard are located south of the Church with a number of flat slabs, table tombs and vaults dating from the 18th and 19th centuries within the area of the Church. On the 15th May 1999 parish resident and film star Oliver Reed was laid to rest in Bruhenny churchyard. May all who visit this sacred place remember those who have gone before. Ar dheis De go raibh an n-anam.
Pound Corner – where locals and
visitors alike meet for a chat was where a village water pump
was once situated. The "pound" behind the wall is
where the landlord "impounded" animals belonging to
farmers who were not able to pay their rent. Now you can see
a large specimen of red Churchtown marble and a bronze plaque
setting our its significance at the Pound Corner.
Burton Park is now the home
of the Ryan-Purcell family and visitors are welcome by appointment
during summer months by ringing +353 (0)22 23 134.
The original mansion which stood in Burton Park Demesne was built in 1676 by the Percival family. However, in 1690, along with much of Churchtown, the Burton Park House was plundered and burnt by the Duke of Berwick's Jabobite forces retreating from the Battle of the Boyne. The house was subsequently rebuilt on a smaller scale. In 1889, Matthew John Purcell purchased Burton House and demesne from the Percival Family (Earl of Egmont) under the Land Acts. The Purcell's had rented Burton Park since 1800. In the 1890s, through his agent Robert Sanders and in conjunction with the Board of Works, the Purcells embarked on imaginative (and expensive) alterations and improvements to the house and estate: bedroom floors were renewed, ceilings remoulded, chimney shafts rebuilt, a kitchen was added, pantries were provided, a porch built, slating and skylights were repaired and renewed, staircases removed or altered, and windows and shuttering replaced. Extensive work on the coach house, gate lodge, sheds and stables was also undertaken.
Padre Pio Nursing Home is owned and operated
by Shane and Mary McCabe. We are proud to have such a high
quality nursing home in Churchtown. There are 30 bedrooms
with a further 10 added in 1999. You can contact the Home
at 022 23789.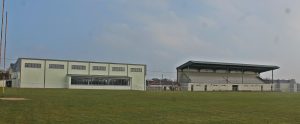 Our Village Sports Field is located on Kerry lane just west of the village and has two playing pitches situated on a 10 acre site. The field is managed by the Gaels GAA who organise a wide range of teams at all levels playing Gaelic Football and Hurling. See also the new stand we are building.
The Imogane Road – perfect for
a summer's evening stroll. The Imogane Road is one of the loveliest
four mile walks or cycling routes in Churchtown. Follow the
main Burton Road from the village for a mile, go up and then
down Keane's Hill with Clashganniff to your left and take
the first right turn at O'Connor's cross. Follow the
grassy country lane known as "The Imogane Road" (pronounced
"Imogawn") until you come to a right turn that will
bring you back into the village via Egmont View.
With over 6,000 acres of mainly
good arable land Churchtown has a strong farming tradition.
Up to the 1890s all the land was owned by absentee landlord
the Earl of Egmont and it was managed on his behalf by an agent.
Sir Edward Tierney has a huge influence on the land improvements
in the mid 1800s in Churchtown such as draining and fertilising
with lime.
A standing stone which is clear
evidence of settlement some 4,000 years ago is located on the
old Boss Murphy homestead. And not forgetting of course, our
good neighbours. If you visit Churchtown you must also visit
Liscarroll where you will see one of the finest Norman Castles
in Ireland. Buttevant has so many Norman ruins within its "walls"
that it is also well worth a visit. Charleville is only seven
miles north of Churchtown and you can cycle there on quiet lanes
by going north through George's Street.
Churchtown has one of only a few
17th Century windmills in County Cork.
George's Street as you enter the
village from the Black Road
St Brigid's Well at Mount Brigid
in Churchtown.
Churchtown from the air 2002 before
the Bruhenny site was completed. Note the GAA field at the top
of the picture.
The Equine sculpture commmemorating Vincent O'Brien with the Parson's House.
Tributary of the Awbeg River at Leap
The "Old Bog Road" at Leap
Children enjoying the local Parish
Festival (organised by the Churchtown Development Association)
in August 2008
Oliver Reed's funeral in May 1999
brought the village to a standstill. Oliver's favourite pub
– O'Brien's – can be seen in the background.
The Churchtown Walking Loop Trails.
Churchtown Legend Bill Egan at
Boss Murphy's. The Ballyhoura Ramblers are in Boss Murphy's
on the fourth Thurs each month. A great night's free entertainment
organised by Noel Linehan. Thanks Noel.
We hope you enjoyed this short
virtual tour of Churchtown and are looking forward to meeting
you in person soon. Remember, there are lots of interesting
things to do in the Churchtown area and you will always be sure
of a warm welcome, especially when you stay in Boss Murphy's.